Sans Souci Fine Crafts Gallery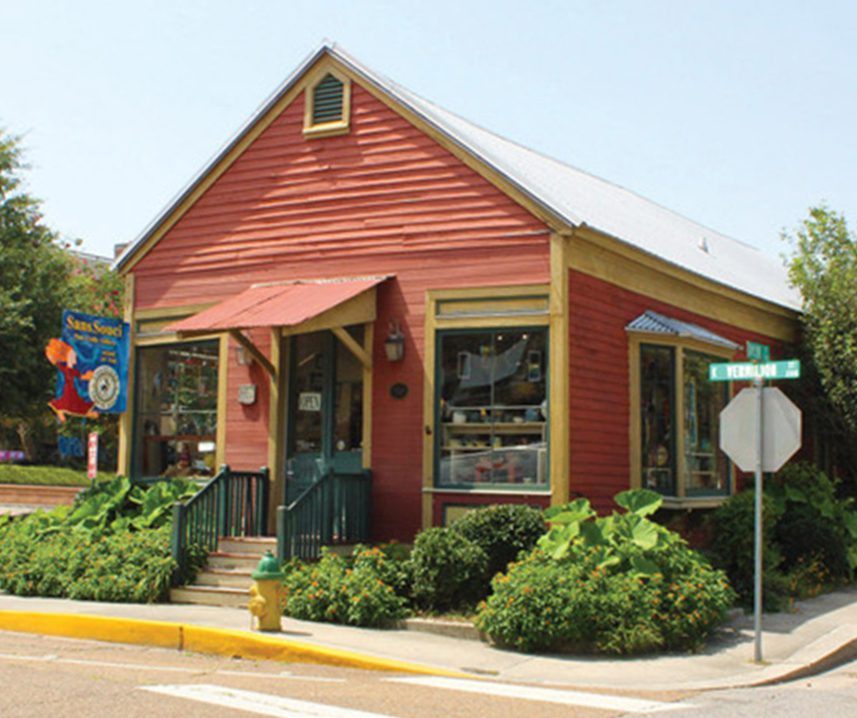 Voted one of the top places to shop in the South by Southern Living Magazine, the Gallery exclusively features the work of the Guild's over 250 members, some of the South's finest artisans. Here in the home of the Louisiana Crafts Guild, you will find one of a kind traditional and contemporary crafts created by imaginative and skilled artisans, in a variety of media, such as pottery, jewelry, glass, textiles, metal and wood.
The Sans Souci building may be the oldest commercial building surviving the Lafayette's downtown area. Built circa 1840, the actual construction date is not known, but the building's long history within the community is certain. Built by Richard Chargois, an early business leader in Lafayette, it remained in the Chargois family until 1943.
At the time of its construction, the property was located on the outskirts of Lafayette and the building welcomed guests as the Lafayette Inn. It was also a carpenter's store, a grocery market, a tinsmith shop, and housed Lafayette's first post office and newspaper. This memorable wooden building is named for the Sans Souci Bookstore, opened in 1943 by the woman who established the UL Lafayette campus library, Ms. Edit Garland Dupre.
Renovations were completed in 2001, and the structure now resides in the urban park that was built around it and shares its name. The building was designated historic property in 2003 and today the "Sans Souci Fine Crafts Gallery" serves as the "home" of the Louisiana Crafts Guild and offers fine handmade original art and crafts from the members of the Louisiana Crafts Guild.
GALLERY MANAGER  Sharon A Brotherton
GALLERY HOURS
Closed Monday/Tuesday
Wednesday – Saturday 11am – 5pm
Sunday 9am – 2pm
LOCATION
219 E Vermilion Street Lafayette, LA 70501
E-MAIL  sharon@lousianacrafts.org
PHONE  (337) 266-7999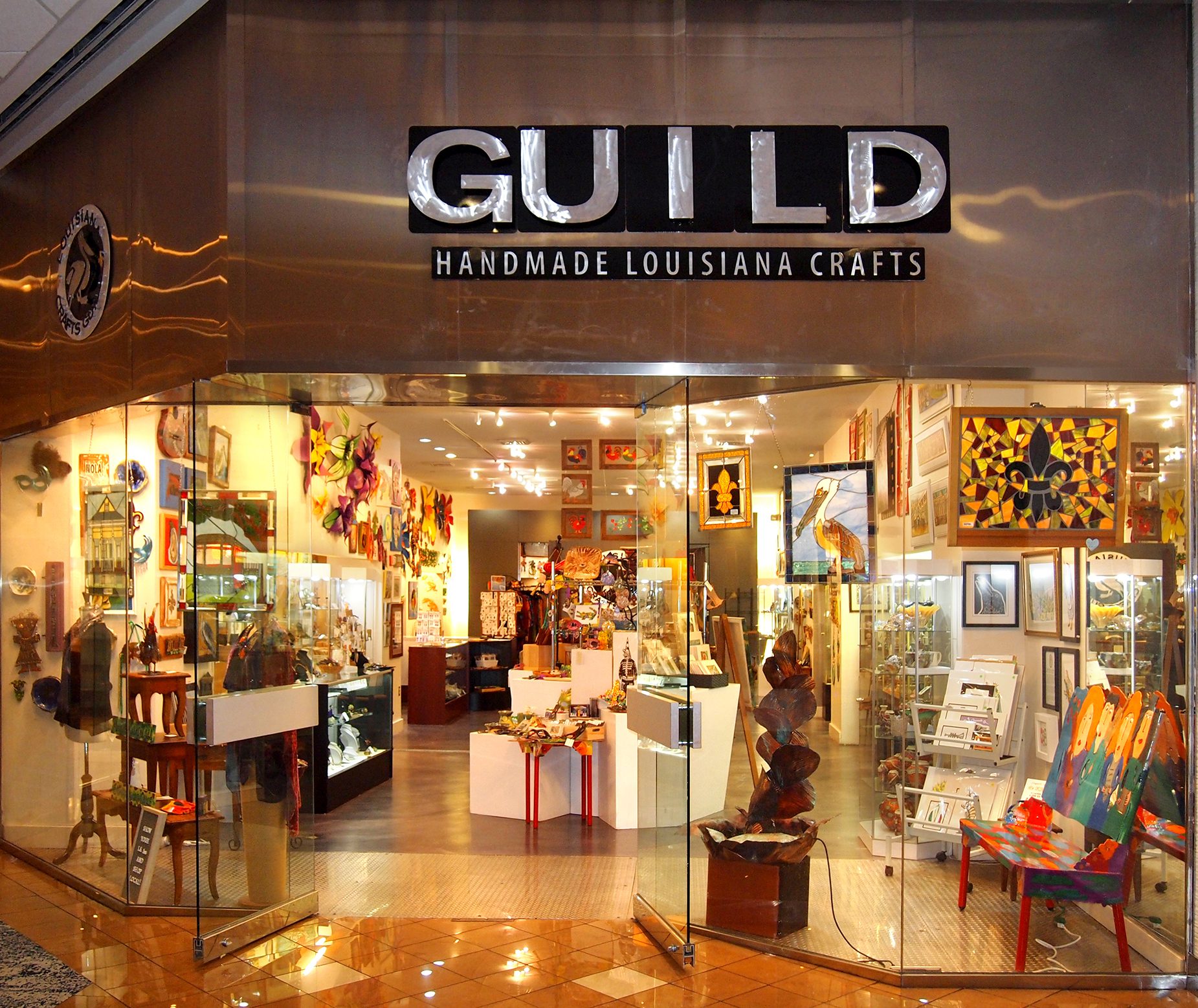 Now open in Canal Place, a new gallery for the Louisiana Crafts Guild featuring fine handmade crafts made by Louisiana artists.
With a little bit of everything from jewelry, wearables, housewares, furniture, and decorative crafts, La GUILD is a one-stop shop for unique and locally made items. Over 95 artists from across the state share their work in our shop.
The Louisiana Crafts Guild is a juried organization of Fine Crafts Artisans located throughout the state of Louisiana and the southern region of the United States. The non-profit Guild strives to professionalize the craft industry in an environment which encourages creativity and the sharing of member expertise, and is focused on "legitimizing" the craft industry and supporting a lucrative income for its members.
If you're traveling to Lafayette, Louisiana, check out our sister gallery Sans Souci Fine Crafts Gallery for more handmade crafts!
GALLERY MANAGER  Katie Odell
GALLERY HOURS
Closed Monday/Tuesday
Wednesday – Saturday 11am – 5pm
Sunday 12pm – 5pm
LOCATION
333 Canal St Store 206, New Orleans, LA 70130
Located on the 2nd Level of Canal Place
E-MAIL  katie@lousianacrafts.org
PHONE  (504) 592-7633
The Vault At Acadiana Center For The Arts
GALLERY MANAGER  Brian Guidry
GALLERY HOURS
Closed Sunday & Monday
Tuesday – Saturday 10am – 5pm
LOCATION  101 W. Vermilion St, Lafayette, LA 70501
E-MAIL  brian@acadianacenterforthearts.org
PHONE  337-233-7060
River Oaks Square Arts Center
GALLERY MANAGER  Rachael Dauzat
GALLERY HOURS
Closed Sunday and Monday
Tuesday – Friday 10am – 5pm
Saturday 10am – 2pm
LOCATION  River Oaks Square Arts Center, 1330 Second Street Alexandria, LA 71301
E-MAIL  rd@RiverOaksArtsCenter.com
PHONE  (318) 473-2670